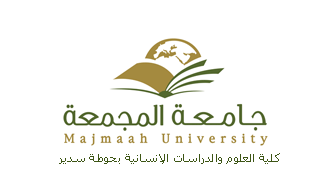 The College of Science and Human Studies was established in 1422-1423 AH, under the name of the College of Education for Girls, which was later under the General Presidency of Girls' Education, and finally under the Ministry of education. Soon after, the college became one among the colleges of Princess Nora bint Abdulrahman University (Ministry of Higher Education). But, before it was affiliated to Majmaa University, there was a transitional period, during which the college was connected to King Saud University. And, it was only in the third of Ramadan of 1431 AH when a Royal Decree was issued stipulating the establishment of the Majmaa University, which was accompanied by changing the name of the college from the College of Education for Girls to the College of Science and Human studies at Hotat Sudair. Back then the college remained dedicated only for women, and was composed of four departments to which another four departments were added later on. And, by the end of 1432 AH, an additional four educational departments were introduced for males. During that period, the college building (female sections) was affiliated with the Ministry of Education and was equipped with additional classrooms and labs. With the beginning of the academic year of 1433 AH, representing a starting point and the beginning of a journey of growth and prosperity, the college was honored by the inauguration of three buildings, for both males and females, by the Rector, which were as follows: 1- The female building which was built on a vast area, and it includes many classrooms, sophisticated chemistry labs, and computer labs well equipped with the latest technical systems and devices. All of which reflect the college's determination to realize its vision and mission, through a clear goal and by the support of the Rector, Dr. Khaled Bin Saad Al-Muqrin. 2- The other two buildings comprise the Deanship building and the male building; which both include the Deanship offices, administration, and the students' four departments (the English Department, Mathematics Department, Business Administration Department, and Department of Contemporary Islamic Studies), as well as training rooms and classrooms. All classroom expansion processes were completed in addition to the establishment of new departments in the college.
- Photos and details of the ceremony, click here-
- College facilities in the its former buildings, click here-
The College continued its mission with unlimited support by the University until the place on which the College would be established was approved by the University. Then construction began until the building was accomplished with cutting-edge technology and highly equipped places. Inaugurated by the rector in a memorable event where the dean, vice deans and government officials were present, the College will be committed to achieving its vision and mission, fulfilling the expectations of its founders.
For pictures of the inauguration, click here